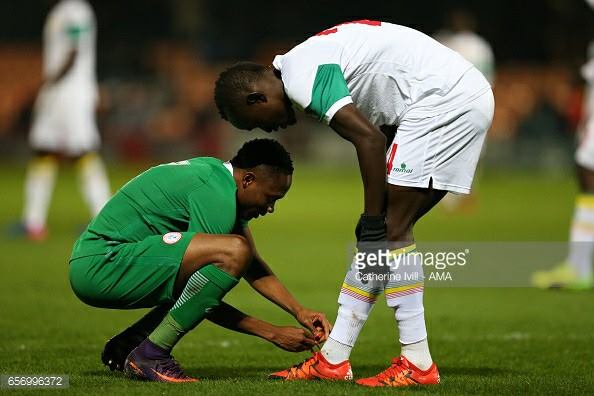 Ahmed Musa Tieing The Boots Of A Senegalese Player (Photo)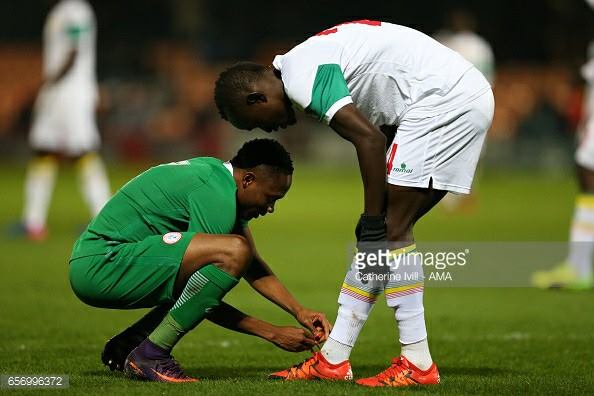 Ahmed Musa was captured yesterday helping an opponent tie his boot during the match the Super Eagles of Nigeria played with the Teranga Lions of Senegal.
The match ended in a draw as Kelechi Iheanacho scored an equaliser for the Nigerian team on the penalty spot after the Senegalese team took on an early lead.
Ahmed Musa's show of love was one of the beautiful highlights of the game and the photo has since gone viral
OUR MUSIC PROMOTION IS EXPRESS » CLEAN » CLASSIC » DOPE » WELL PACKAGED » AND VERY CHEAP FOR MORE INFORMATION
»»
CALL
09055987154 »»
WHATSAPP
09038545640
Share This With Your Friends
Content Copyright:
Please do not cut, copy or lift this page content without our concern. Images posted are believed to be published according to the U.S Copyright Fair Use Act (title 17, U.S. Code.).
Content Removal:
If you believe that this page has violated your copyrighted/protected material(s), please kindly
Contact Us Here
for immediate removal, or mail us at
Info@naijagroves.com
stating the content name/URL of the page. Thanks, NaijaGroves.com (c)
Categories: Categories: Sports
Face Of The Week
0 Responses